DEFINITION OF MOBILE COMMERCE
---
m-commerce market potential, handset manufacturers such as Nokia, Ericsson, Motorola, and Qualcomm are working with carriers such as AT&T Wireless and Sprint to develop WAP-enabled smart phones, the industry's answer to the Swiss Army Knife, and ways to reach them. Using Bluetooth technology, smart phones offer fax, e-mail, and phone capabilities all in one, paving the way for m-commerce to be accepted by an increasingly mobile workforce.
As content delivery over wireless devices becomes faster, more secure, and scalable, there is wide speculation that m-commerce will surpass wireline e-commerce as the method of choice for digital commerce transactions. The industries affected by m-commerce include:
Financial services, which includes mobile banking (when customers use their handheld devices to access their accounts and pay their bills) as well as brokerage services, in which stock quotes can be displayed and trading conducted from the same handheld device
Telecommunications, in which service changes, bill payment and account reviews can all be conducted from the same handheld device
Service/retail, as consumers are given the ability to place and pay for orders on-the-fly
Information services, which include the delivery of financial news, sports figures and traffic updates to a single mobile device
M-Commerce Applications
The general m-commerce applications are categorized as transaction management, digital content delivery and telemetry services. The applications can be further subdivided into passive and active m-commerce applications. Active application relates with the applications in which the user has to take the initiative on his wireless device. In contrast, the passive applications themselves get activated towards accomplishing the assigned jobs or facilitate the users to carry forward.
Active Applications
M-commerce transactions point to online shopping Web sites tailored to mobile phones and PDAs which are being equipped with the capabilities of browsing, selection, purchase, payment and delivery. These sites also include all the necessary shopping features, such as online catalogs, shopping carts, and back office functions as currently available for desktop computers. Leading online booksellers already started the commercial activities for wireless devices. Another important m-commerce transaction is to initiate and pay for purchases and services in real time. The highest volume of m-commerce transactions using wireless devices in the days to come is bound to occur on the side of micro-transactions. When individuals reach for their e-cash-equipped mobile phones or PDAs instead of coins to settle micro transactions, such as subway fees, widespread use of digital cash will become a reality.
The second important one is regarding digital content delivery. Wireless devices can retrieve status information, such as weather, transit schedules, flash news, sports scores, ticket availability and market prices, instantly from the providers of information and directory services. Digital products, such as MP3 music, software, high-resolution images and full-motion advertising messages, can be easily downloaded to and used in wireless devices when the 3G transmission technology becomes usable. The proposed arrival of better display screen and higher bandwidth will surely trigger the development of innovative video applications. This will help wireless users to access, retrieve, store and display high-resolution video content for a time of entertainment, product demonstration and e-learning.
The last major application of m-commerce is telemetry services, which include the monitoring of space flights, meteorological data transmission, video-conference, the Global Positioning System (Global Positioning System), wildlife tracking, camera control robotics, and oceanography. Thus in the near future, wireless phones and appliances can be used by people to contact and communicate with various devices from their homes, offices or any where at any time. For example, delivery drivers will ping intelligent dispensing machines or users can transmit messages to activate remote recording devices or service systems.
Passive Applications
This type of applications seems manifold and exciting. Instead of using dedicated cash cards for automatic collection of toll charges, digital cash can be used by integrating cash cards with mobile devices. Mobile users can easily pay and record payment of toll, mass-transit, fast-food, and other other transactions
Nowadays mobile users can send and receive short text messages up to 160 characters that show up on the user's display screen. As digital convergence becomes more commonplace, all kinds of mail, such as e-mail, fax documents and digitized voice mail, can be received passively. Thus it is felt that in near future there will be many novel services for mobile users for a fixed fee. Further on, users may be tempted for some services free of cost for viewing audio or video advertisement delivered to their wireless devices. Any kind of security breach, illegal intrusion, unusual event or unacceptable condition will trigger automatic notification to users irrespective of location. Airline companies are testing this technology to alert frequent air passengers regarding seat availability and upgradation, to notify the changes made in the timings etc. through wireless devices.
Passive m-commerce telemetry is the foundation of still another form of interactive marketing. Stores will be able to market their products and services by constantly transmitting promotional and inducing messages and doling out something towards getting the attention of both passers-by and remote mobile users.
CELLULAR NETWORK
---
A cellular network is a radio network distributed over land through cells where each cell includes a fixed location transceiver known as base station. These cells together provide radio coverage over larger geographical areas. User equipment (UE), such as mobile phones, is therefore able to communicate even if the equipment is moving through cells during transmission.
Cellular networks give subscribers advanced features over alternative solutions, including increased capacity, small battery power usage, a larger geographical coverage area and reduced interference from other signals. Popular cellular technologies include the Global System for Mobile Communication, general packet radio service, 3GSM and code division multiple access.
WIRELESS SPECTRUM
---
The wireless spectrum consists of electromagnetic radiation and frequency bands. Respective countries have their own wireless spectra with ranges up to 300 GHz. The wireless spectrum frequencies used in communication are regulated by national organizations, which specify which frequency ranges can be used by whom and for which purpose.
Radio-channel and channel-frequency variation is quite complex because radio propagation characteristics are a result of both man-made and natural factors. Government entities own frequency channels, which are divided according to common frequency band characteristics and cause performance breaks at different frequency levels, where only windows of continuity are available.
Technologies for mobile commerce
---
SMS
SMS, or text messaging, is the oldest of these technologies and the most widely used.
SMS messages can transmit one-way "push" notifications such as alerts, news, offers and other data from content providers to subscribers.
In addition, SMS can carry binary data, so it can be the wireless delivery mechanism for downloads such as ringtones and operator logos as well as encrypted messages.
SMS also supports two-way interactive messaging, including allowing bank accountholders to check their current account balance by texting "BAL" to a specific phone number or short code.
The main advantages of SMS are its ubiquity and ease of use: it is available everywhere and is accessible to all end-users irrespective of their wireless carrier or mobile device type.
The main drawback of SMS is lack of encryption.
SMS services cannot use Personal Identification Numbers (PINs) for authentication, because copies of messages are stored in the unsecured Sent folder. This limits SMS to services that do not require authentication or that require the PIN to be requested "out-of-band" in another medium, such as by an Interactive Voice Response (IVR) call to the subscriber to request the PIN.
While Multimedia Messaging Service (MMS), or picture messaging, is widely used in some markets, it is generally not used in mobile commerce services.
MMS is costlier than SMS, and controlling how it appears on the device is difficult. One exception is MMS for bar codes, but this is still a niche use.
USSD
USSD is nearly as old as SMS, but is available only for external services in a limited number of markets.
Where it is available, which includes parts of Africa, Central America, Europe, India and Southeast Asia, it is generally very popular.
Unlike SMS, USSD establishes a real-time connection that allows for true session-based communications. Think of it as the mobile version of IVR systems that many companies use for customer service—but without the voice.
Like SMS, USSD can transmit push notifications, answer queries from users – the available balance in a prepaid mobile account – and top-up the balance on prepaid mobile accounts.
Also like SMS, USSD is accessible from virtually any mobile phone, and using it is easy.
A big advantage of USSD is that it can incorporate secure password or mobile PIN protection, because sent messages are not stored on the device.
USSD does have drawbacks.
Charging for services is difficult because carriers do not have a built-in billing mechanism. It is not guaranteed to work when you roam. And your phone must be turned on to receive messages.
When your phone is off, out of range or in a dead zone such as inside an elevator, you will not get the message—and unlike SMS, USSD provides no ability to resend messages.
For those reasons, USSD is not a good option for services such as fraud alerts.
If you launch services in a market with USSD, it provides maximum reach. However, USSD requires the carrier to make it available to external services, so this limits its availability.
WAP/Mobile Web
Using XHTML – a variation of HTML – for mobile Web access, WAP 2.0 has been available on most feature phones since 2004. Since the launch of iPhone, most smartphones have supported browsers that support HTML.
WAP 2.0 provides a mobile experience much closer to a desktop and laptop Web experience than the original WAP standards did, but it is still different enough that a WAP experience and Web experience will not be exactly the same.
A WAP user experience can be close to what you get with a basic mobile app. WAP does not have access to the mobile phone's features like an app does, but it is still a good back-up plan for users without smartphones.
STK
Using SIM Toolkit (STK), developers can build an application that is stored on the Subscriber Identity Module (SIM) card and appears in the top-level menu of a feature phone.
STK allows these apps to request and receive information from SIM, give commands to the mobile device, ask for input from the user and communicate with external applications.
A few services use STK for mobile banking and other kinds of apps with simple interfaces and a low level of functionality. The main benefit of STK is security in the form of identity verification and encryption.
From a security standpoint, giving subscribers an STK application is like giving them a dedicated terminal.
STK is ideal for financial or mobile commerce deployments where customers have access to a network of cash-in/cash-out agents, such as those of the M-Pesa system in Kenya or in other peer-to-peer markets where subscribers trade airtime.
The challenge of STK is that it usually requires the carrier to issue a new SIM card. For that reason, it is best to use STK in limited distribution environments.
Different generations in wireless communication
---
First Generation (1G): 1G (or 1-G) refers to the first-generation of wireless telephone technology, mobile telecommunications. These are the analog telecommunications standards that were introduced in the 1980s and continued until being replaced by 2G digital telecommunications. The main difference between two succeeding mobile telephone systems, 1G and 2G, is that the radio signals that 1G networks use are analog, while 2G networks are digital.
Although both systems use digital signaling to connect the radio towers (which listen to the handsets) to the rest of the telephone system, the voice itself during a call is encoded to digital signals in 2G whereas 1G is only modulated to higher frequency, typically 150 MHz and up.
Second Generation (2G): 2G (or 2-G) is short for second-generation wireless telephone technology. Second generation 2G cellular telecom networks were commercially launched on the GSM standard in Finland by Radiolinja[1] (now part of Elisa Oyj) in 1991. Three primary benefits of 2G networks over their predecessors were that phone conversations were digitally encrypted, 2G systems were significantly more efficient on the spectrum allowing for far greater mobile phone penetration levels; and 2G introduced data services for mobile, starting with SMS text messages.
After 2G was launched, the previous mobile telephone systems were retrospectively dubbed 1G. While radio signals on 1G networks are analog, and on 2G networks are digital, both systems use digital signaling to connect the radio towers (which listen to the handsets) to the rest of the telephone system.
Advanced Second Generation(2.5G):2.5G is a stepping stone between 2G and 3G cellular wireless technologies. The term "second and a half generation" is used to describe 2G-systems that have implemented a packet switched domain in addition to the circuit switched domain. It does not necessarily provide faster services because bundling of timeslots is used for circuit switched data services (HSCSD) as well.
The first major step in the evolution of GSM networks to 3G occurred with the introduction of General Packet Radio Service (GPRS). CDMA2000 networks similarly evolved through the introduction of 1xRTT. So the cellular services combined with enhanced data transmission capabilities became known as '2.5G.'
Third Generation (3G):International Mobile Telecommunications-2000 (IMT-2000), better known as 3G or 3rd Generation, is a family of standards for mobile telecommunications fulfilling specifications by the International Telecommunication Union,[1] which includes UMTS, and CDMA2000 as well as the non-mobile wireless standards DECT[citation needed] and WiMAX[citation needed]. While the GSM EDGE standard also fulfils the IMT-2000 specification, EDGE phones are typically not branded 3G. Services include wide-area wireless voice telephone, video calls, and wireless data, all in a mobile environment. Compared to 2G and 2.5G services, 3G allows simultaneous use of speech and data services and higher data rates (at least 200 kbit/s peak bit rate to fulfill to IMT-2000 specification). Today's 3G systems can in practice offer up to 14.0 Mbit/s (1.75 MB/s) on the downlink and 5.8 Mbit/s (0.725 MB/s) on the up link.
Fourth Generation (4G):4G refers to the fourth generation of cellular wireless standards. It is a successor to 3G and 2G families of standards. The nomenclature of the generations generally refers to a change in the fundamental nature of the service, non-backwards compatible transmission technology and new frequency bands. The first was the move from 1981 analogue (1G) to digital (2G) transmission in 1992. This was followed, in 2002, by 3G multi-media support, spread spectrum transmission and at least 200 kbit/s, soon expected to be followed by 4G, which refers to all-IP packet-switched networks, mobile ultra-broadband (gigabit speed) access and multi-carrier transmission.[citation needed] Pre-4G technologies such as mobile WiMAX and first-release 3G Long term evolution (LTE) have been available on the market since 2006[1] and 2009[2][3][4] respectively.
mobile commerce in India
---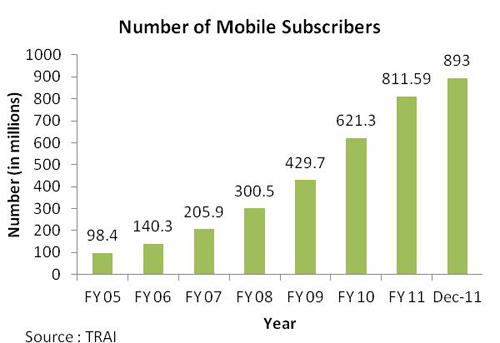 The substantial increase in the mobile users in the past decade has created a huge potential for m-commerce at present. This reach and penetration of mobile phones can be used to provide large number of services in a cost effective, fast and seamless manner.
Global m-commerce services:
In the global arena, mobile phones are harnessed to produce several mobile value added services in the m-commerce space. These services are spread across in the grounds of information, application and enablement categories
Information services include SMS alerts by banks for transactions and news channels that have applications for updating information on current news and stock prices.
Application Services deal with mobile banking (Yucash in Kenya), mobile purchase of goods (CreditEx in US) and mobile ticketing facilities (Simpass in China).
Enablement Services consist of the mobile savings account service (M-Kesho in Kenya) where money can be stored along with interest earnings. It also includes the enable payment services where payment can be made using Visa/debit cards through mobiles (MTS Ukraine) and can also be used to transfer funds
M-commerce- A driver for financial inclusion in India:
Mobile phones have transformed to be an inclusive part of peoples life. The number of Indians who use mobile phones is greater than who have access to toilets and banking services. The total number of wireless subscribers in rural areas stood at 307 million in 2011 which constitutes 34 percent of the total subscribers.
Taking advantage of this scenario, m-commerce can be used a catalyst for driving financial inclusion. Indian financial institutions are struggling to set up the requisite infrastructure to serve all regions equally. Though this is a significant challenge, it provides potential opportunity. Many countries in developing nations across the world from Africa to Eastern Europe have adopted mobile banking gateways, and have seen great success. For example, M-PESA in Kenya which has been cited as a driver for the doubling of bank accounts from 6 million to 12 million in a year. M-PESA shows that mobile remittances (P2P Payments) have the potential to act as gateways to the banking system for the unbanked and the under-banked segments, which make up a huge segment of the Indian population. Recognizing the importance of this mode, Reserve Bank of India issued the guidelines for Mobile banking and m-Commerce services in India.
Current m-commerce Services in India:
Business and public sectors like banks, financial institutions, and telecommunications are trying to utilize the increase in the number of cell phone users and are integrating m-commerce strategies. At present some m-commerce services are available in India and some are in pilot run. Most leading Indian banks offer SMS based information services and mobile banking services. In addition, several mobile service providers in partnership with banks are offering mCheck services for bill payments and ticket payments through mobile. mChek links mobile phone to Visa/ Mastercard credit or debit card allowing to make payments th rough mobile phone. RBI has set the maximum mobile payment limit to Rs 50000. Airtel is the first Service provider to get semi closed mobile wallet license and it operates under the banner airtel money. It is an account on mobile phone where one can deposit and use this balance to pay for various products and services. Reliance also offers similar service. Itzcash card Ltd which is Indias largest non- bank semi-closed prepaid payment instrument issuer is also licensed to offer m-wallet services. Recently, the e-commerce giant e-Bay has started its m-commerce operations in India and launched a new website for its m-commerce services. An open wallet system like Kenyan M-Pesa, which may fuel rapid growth, is not introduced in India till now.